Mission
OS

on Singapore's Sewage Superhighway
Tunnelling work has just begun on a massive underground sewage superhighway in Western Singapore. It is the second phase of the Deep Tunnel Sewage System (DTSS), where the PUB, Singapore's national water agency, has broken new ground in the latest phase of this extensive project.
Dr. Angus Maxwell, CEO & Founder of Maxwell GeoSystems attended the commissioning launch ceremony of this key milestone in one of Singapore's most significant water infrastructure projects.
Maxwell GeoSystems has installed its innovative MissionOS system to handle all aspects of instrumentation monitoring throughout the entire works.
The Shaft and Tunnel Excavation Monitoring System (STEMS), as the client refers to it, acts as the nerve centre, providing real-time updates on the location of the tunnel boring machines, making sure that operations throughout the construction period remain safe and go smoothly, with minimal disruption to urban structures above. STEMS is an implementation of the MissionOS platform.
The STEMS/MissionOS system monitors every individual aspect of tunnelling, including the various instrumentation and monitoring across all the projects of DTSS Phase2. There are over 30,000 instruments monitored in real-time.
With 19 Tunnel Boring Machines (TBMs) operating consecutively, and 50 shafts, the STEMS/MissionOS system will handle all the data feeds from this world-breaking feat, ensuring updates in real-time throughout all phases of the operation.
The system detects & highlights any potential problems and displays the information to the client through its highly intuitive user interface, saving valuable time and reducing risks. Target for project completion is 2025.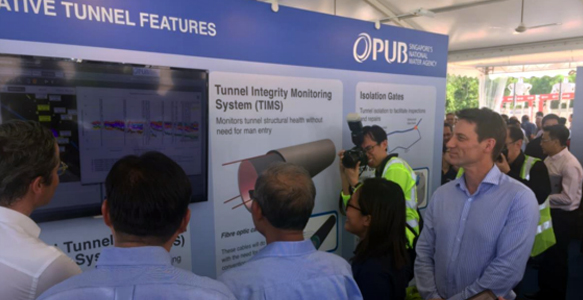 At the display of Shaft and Tunnel Excavation Monitoring System (STEMS) /MissionOS systems.
The main multi-screen operations data centre of the Shaft and Tunnel Excavation Monitoring System (STEMS), / MissionOS system for the DTSS-2 project in Singapore.